Walkie Talkie UV-5R UHF VHF Dual Band Two Way Ham Radio
A two-way radio, also called walkie-talkie, is a radio that can both transmit and receive, unlike a broadcast receiver which only receives content. A two-way radio allows the operator to have a conversation with other similar radios operating on the same radio channel. It is available in mobile, stationary base and so on. Therefore, we strongly recommend you our new product The Baofeng UV-5R is a compact hand held radio scanner transceiver providing 4 watts in the frequency range of144-148MHz, 420-450MHz (TX) | 144-148, 136-174MHz, 400-480MHz (RX). It is a compact, economical HT that includes a special VHF receive band from 65-108 MHz which includes the regular FM broadcast band. Dual watch and dual reception is supported.. It is made of top material, so it is everlasting. Two-way radio systems usually operate in a half-duplex mode; that is the operator can talk, or he can listen, but not the same time. You can install one in your car or your office. It is really practical. Do not hesitate; chance is here!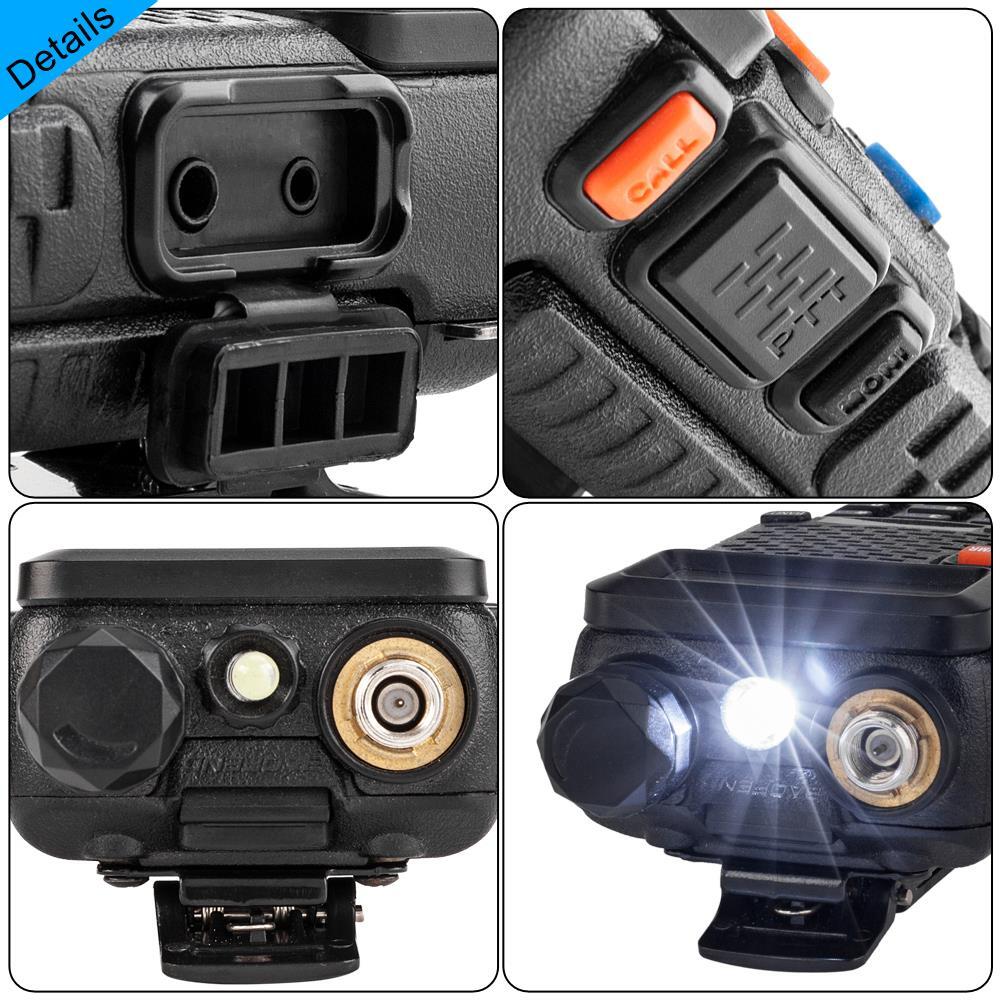 Walkie Talkie UV-5R UHF VHF Dual Band Two Way Ham Radio Features
Can both transmit and receive message
Provide you with a chance to make conversation with others
Widely used in mobile, stationary base and so on
With a half-duplex operation system
Convenient and portable enough
Specifications:
FM: 65-108MHz (radio, can receive, can not be fired)
Frequency Range: 144-148MHz, 420-450MHz (TX) | 144-148, 136-174MHz, 400-480MHz (RX)
FM Function
Number of Channels: 128
Operating Voltage: 7.2V DC 1800MAH lithium battery
Stepping Frequency: 2.5 / 6.25 / 10 / 12.5 / 20 / 25KHz
Frequency Stability: ± 2.5PPM
Antenna Impedance: 50?
Output Power: High ? 4W, low ? 1W
Current: ? 1.4A (4W)
Modulation Sensitivity: 8-12mV
Modulation Distortion:
Modulation Limiting Broadband:
CTCSS / CTCSS Deviation: 0.75KHz ± 50Hz, 0.37KHz ± 30Hz
Spurious Radiation:
Modulation: 16K?F3E/11K?F3E
Modulation Characteristics: 6dB / per fold frequency increments
Reference sensitivity:-122dBm (12dB SINAD)
Audio Power: 1W
Audio Distortion:
Modulation Receiver Bandw
Color: Black
Package Includes:
1 x BaoFeng UV-5R Walkie Talkie
1 x Li-ion battery
1 x Antenna
1 x Headphone
1 x Charging Cable
1 x Charging Cradle
1 x Lanyard
1 x Manual
1 x Wearing Clip
Fast shipping
Free shipping on all orders in the USA.
AMAZING SUPPORT
Our amazing support team is here to help.
30 DAYS RETURN
Simply return it within 30 days for an exchange.
100% SECURE PAYMENT
We ensure secure payment and accept Stripe, Visa, Mastercard, Amex & Paypal.